Here at Rock 88.9, we believe in a hard day's work.
Not saying that's what we do. We just believe in it.
And for those of you who actually get off your butts and work in the great outdoors-, we've got the Rock 88.9 Construction Crew just for you.
So hit us up for a lunch break.
We'll roll your way on Thursday with an awesome lunch from McDonalds and some cool swag from Burge Supplies. You'll also get a ballot to win a new Bel Air by Bull® Vintage 4-burner gas grill thanks to Ritchie's Discount Warehouse.
Bel Air by Bull® Vintage 4-burner gas grill cart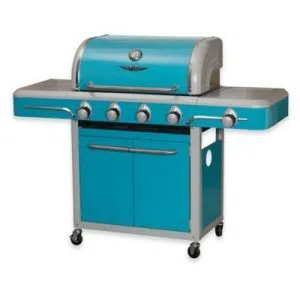 ·
Combines vintage design with modern cooking power
·
Peizo igniters on every valve for easy startup
·
4 stainless steel burners for even heating
·
Side burner for heating sauces and dips
·
Storage compartment is the perfect place to store grilling tools
·
Appropriate for outdoor grilling
·
Vented porcelain-coated flame tamers
·
66,500 BTUs of flame power
·
Heavy-duty casters allow for easy movement
·
Double-walled lid holds heat for oven-like performance
·
Stainless steel construction
·
Assembly required
·
Measures 22,83″ D x 27.36″ W x 34.44″ H
·
1-year manufacturer's warranty
·
Model 79000 (Candy Apple Red); 79003 (Cream); 79006 (Blue)